Adding Attendees
You can add attendees to an event. There are two main ways to do that.
Attendees can be added individually, or in multiples by importing them from a CSV file.
From the Attendees page, go to Actions.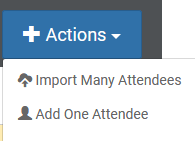 Importing Attendees
Go to Import Many Attendees.
On the new page, fill in the form.

If you want to add tickets too, whilst importing, them, check the Add Tickets checkbox.

Choose the ticket details, then continue filling out the rest of the form.
Adding Attendees Individually
Go to Add One Attendee.
Fill out the form with the attendee's details.

To add tickets to the attendee, check the Add Ticket checkbox, then follow the prompts to add the available tickets.