Attendee Account
As an attendee, you can create an account, on Ticketing.events, to manage all the tickets booked through the platform.
Log in or sign up for your account using the email address that you purchased tickets with. You can also sign up using Google, Facebook, Microsoft, etc, as long as the email address associated with those platforms is the same as the one used to purchase tickets with.
Inside your account, you will be able to see all the tickets in one place.

Under the Actions menu, there are options to manage the tickets, make changes, or view event privileges if any.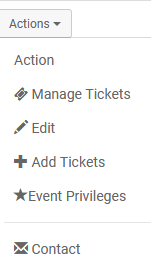 Managing Tickets
Go to the Manage Tickets option.
On this page, you can
Change the name of the attendee or invite other guests, in cases where there are multiple tickets.
Email, view, print, or save the ticket to Passbook/Wallet.
If enabled by the event organizer, request refunds.

Profile Changes
To edit the profile details the event organizer has and can see about you, including your contact preference, go to the Edit option.
Event Privileges
If the event organizer has set up event privileges, go to the Event Privileges option to view them.
Contacting the Event Organizer
Go to the Contact option to find the event organizer's email address.
Alternatively, you can contact the event organizer using the contact form from the event's page.