Attendees' Deals & Offers
As an attendee, you can discover discount offers from your account, then claim, and redeem them.
Offers can be from event organizers and linked to specific events, or directly from local businesses that you have engaged with as a result of an attended event.
With offers from event organizers, after claiming the offer, you would simply present your ticket for offer validation.
Discovering Offers
You can find offers from the Deals & Offers > Find Offers page.
If an event organizer has set up offers, they will be available for the event and ticket types that they've set them up for.
You may also find offers from local businesses if they've set them up for a specific location.
From the Find Offers page, use the Options settings to find offers based on events or location.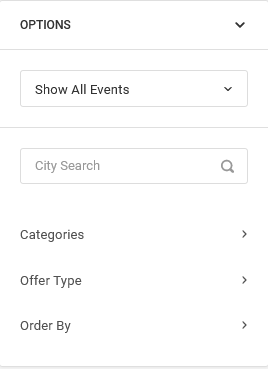 Once you have found an offer that you're interested in, click on the Claim Deal button.

Claiming Offers
Offers that you claim will be shown from the Deals & Offers > Claimed Offers page.
Claimed offers can be those you either discover and claim or accept as an invitation from a local business.
Claiming offers from event organizers will make them associated with specific tickets. The same QR code that admits you to the event is the same that avails you of the offer.
Under a claimed offer's Action menu, there are options to view more details about the offer or the business, share the offer, delete it, and if applicable, view tickets associated with the offer.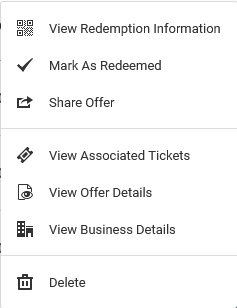 Redeeming Offers
If an offer is associated with an event, you can redeem it in-store by presenting the eligible ticket for the event.
If an offer is directly from a local business, depending on its setup, it can either be redeemed online or in-store.
If it is to be redeemed in-store, use the QR code available under the View Redemption Information. This QR code would be the same as the one shared via email.
If it is to be redeemed online, click the link and use any promo code shown. For online offers, you can mark them as redeemed once you have redeemed them.
Offer Invitations
If you opt-in to receive offers from local businesses, they will be available under Deals & Offers > Offer Invitations page.
If offers are available on the Offer Invitations page, you can choose to either accept or reject them. If accepted, they will be moved to the Claimed Offers page.
You can choose to opt in or opt-out at any time. Opting in, however, requires that the offer has first been redeemed.