Adding Tickets
Tickets can be added to new or existing attendees.
To add tickets to existing attendees, go to the Attendees page, choose the event, find the attendee on the table, then go to Actions > Add Tickets.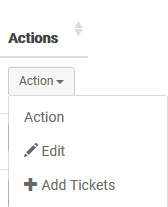 On the Add Tickets, page, choose the tickets to add.

To add tickets to new attendees, when filling out the form, check the Add Tickets checkbox, then proceed to choose the tickets.