Event Tickets Validation
There are three main ways to validate tickets using the Ticketing.events platform.
via Smartphone Apps
from a browser
using a Windows Desktop App
Smartphone Apps
Our Android or iOS apps can be used to validate tickets online or offline.
Log in using your account's email address and password.
If you have a team, create Smartphone App user accounts for them to log in with.
Once logged in, choose the event. On the next screen, choose the date, then how to validate the tickets.
Validate Online – use this option for realtime validation.
Validate Offline – use this when not connected to the Internet. Before setting it up, you will need an Internet connection to download the entire ticket data required for validation. This should be done once the ticket sales are over.
Offline scanned data can be synced back to the account when an Internet connection is present.
Offline devices do not share information among themselves so a ticket validated on one device will still be valid on another offline device.
After choosing the validation method, proceed to scan the QR code tickets.
The results of the scan will be displayed thereafter. If valid, the outcome will show relevant attendee details.
If a QR code is not available for scanning, the attendee's details can be retrieved by an email address search.
Browser
To validate tickets from a browser, go to Ticket Validation > Browser-based.
On the new page, select the event, then use the search functionality on the table to search for the attendee.

When found, click on the Validate button.
If you have a QR Code (2D) keyboard wedge scanner, scanning the QR code tickets will automatically trigger a search for the ticket ID on that table.
Windows Desktop App
From your account download the Windows Desktop App.
Install it on your computer, then log in using your account's email address and password.
Once logged in, go to the Events page. Choose the event you want then click on Import Now. Ideally, this should be done when the ticket sales are over so that everyone's information can be imported.
Configure the Android or iOS app to use the Windows Desktop address. Go to Settings (swipe left), then enter the Windows Address as shown by the Windows App.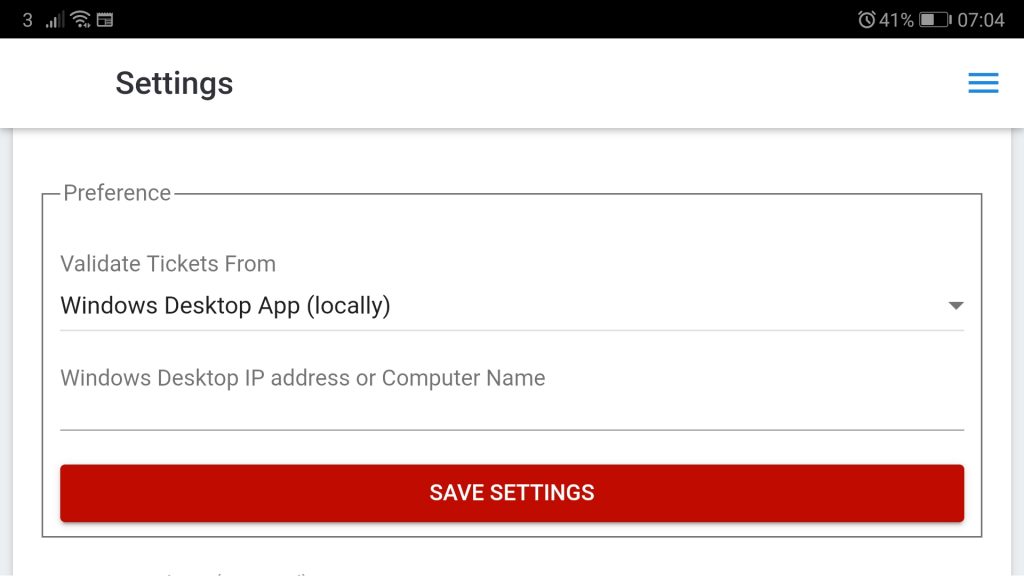 On the Windows App, go to the Smartphone Access page. Scroll down to the table, then click on Add User. These users can then log in to the smartphone app, and validate tickets. The ticket validation process is the same as the one described above.
Once all the ticket validation is complete, go to the Events page, then follow the prompts to sync the scanned data with the platform.